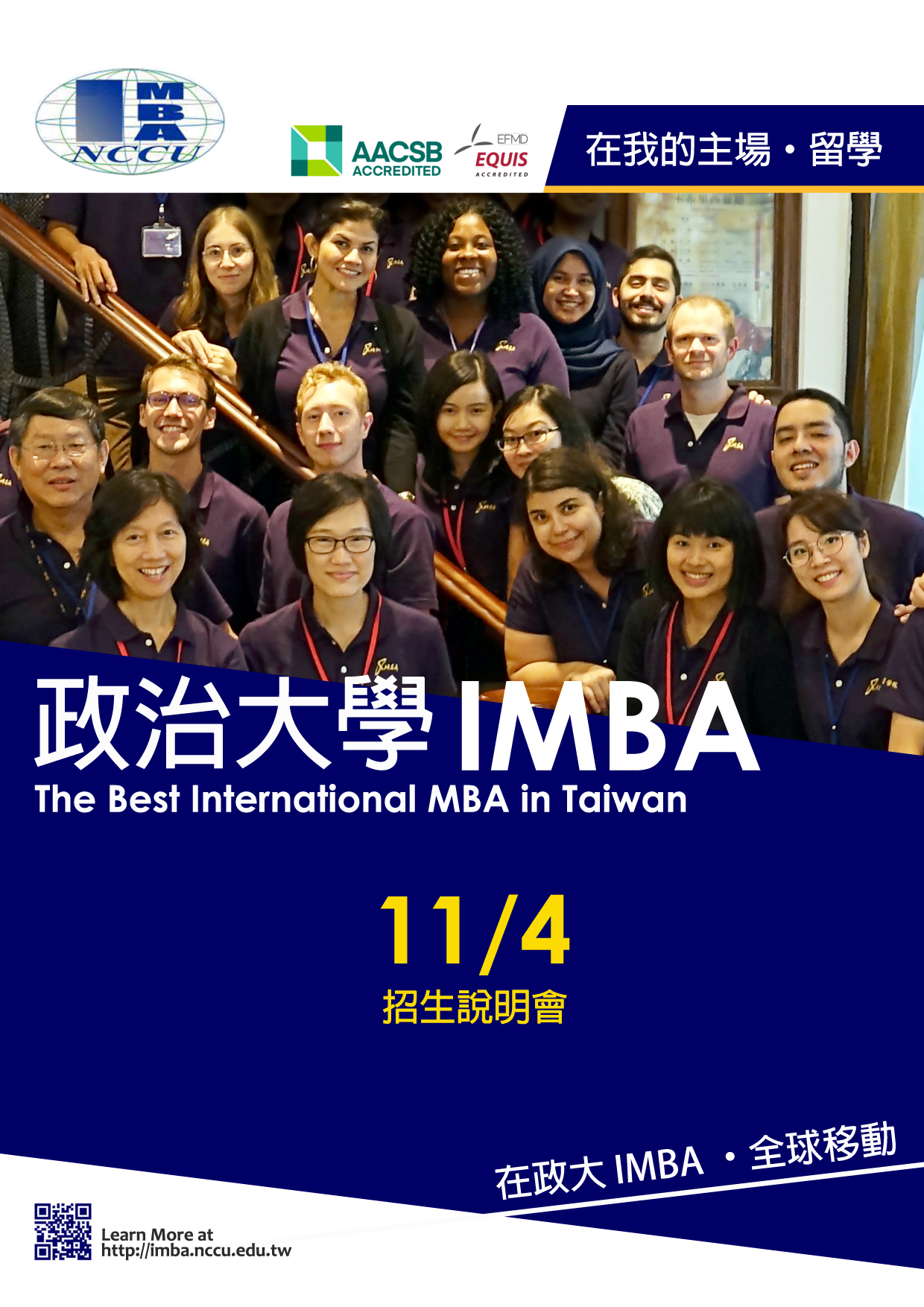 NCCU IMBA
The International Master of Business Administration (IMBA) is a premier business program offered by the College of Commerce at National Chengchi University, the first business school in Taiwan to obtain dual accreditations of AACSB and EQUIS. The program is unique in its student body, faculty, and its special concentration on Management in Asia.
With alumni and students from over 50 countries, this fully English-taught program creates a strong multicultural network. It has also established over 127 student exchange programs with prestigious universities worldwide and 7 dual degree programs with top universities. You can earn 2 Master's Degrees in 2 countries with IMBA tuition fees.
As for the exceptional faculty, the IMBA program provides a dynamic mix of scholars from all over the world, including schools such as Purdue and UCLA; in addition to senior executives form the business community.
The program envisions becoming a world-class incubation center of future leaders, equipping them with competencies to excel in the global business arena. The internationalized student body, diverse faculty, and focus on Management in Asia makes the IMBA program an excellent conduit to learn, grow and excel your career.
An information session will be held on November 4th, 2017. Welcome to Sign up today !
Venue

Yuanta Lecture Hall
6th Floor of the Commerce Building
National Chengchi University
64, Zhi-Nan Road, Sec. 2 Taipei 11605, Taiwan
Agenda

November 4, 2017 (Saturday)
10:00 – 10:30 Reception
10:30 – 10:35 Welcome Remarks
10:35 – 10:55 IMBA Intro - Director Shari Shang
10:55 – 11:40 Alumni and Students' Sharing
11:40 – 12:00 Interact with IMBA Students/ Q&A
Contact us:

IMBA Office
IMBA Website: http://imba.nccu.edu.tw
Email: jeanch@nccu.edu.tw
TEL: +886 2 2938 7912/ 886-2 2939 3091 ext. 65406